To help illustrate the effect that Gateway's phone appeal program could have for your organization, we've put together a case study from one client who, had never completed a phone appeal. They were looking for a new stream of income and after much discussion with their board, decided it was "worth the risk" to see how their active and lapsed donors might respond to a telephone call.
(These results are not uncommon, but it should be noted that results do vary.)
Active Donor Campaign
| Active Donor Results | 1st year | 2nd year |
| --- | --- | --- |
| Total List Size: | 10,961 | 11,892 |
| Billable Calls: | 4,368 | 5,258 |
| Cost: | $17,254 | $20,769 |
| Penetration: | 40% | 44% |
| Pledges | 1,873 | 2,486 |
| Pledge Percentage: | 43% | 47% |
| Pledge Amount: | $59,483 | $77,623 |
| Average Pledge: | $31.76 | $31.22 |
| Total Gifts Received: | 2,101 | 2,472 |
| Amount Received: | $73,804 | $103,546 |
| Fulfilled Percentage: | 124% | 133% |
| Return on Investment: | 428% | 499% |
Overall, this client's active donors' response to the phone appeal was very strong. In both years they received contributions from roughly 20% of their donors directly connected to the phone appeal.
As shown in the chart below, in year one they raised over four times the cost of the project. In year two they raised five times the cost of the project. Investing in one personal phone call a year to active donors will not only carry a reasonable return, but will breathe fresh life into the relationship you have with your donors and prevent them from lapsing. The phone call helps build their commitment to your ministry over the long term. This synergistic effect contributes to the strong revenue growth detailed in the graph to the right.
In years one and two over 100% of the dollars pledged were received. Although, not all of our clients experience fulfillment over 100%, it is not uncommon with active donor appeals because donors tend to give more than they initially pledge. Oftentimes more than 30% of donors who plan to give but prefer not to pledge an amount will respond to our fulfillment package.
Lapsed Donor Campaign
| Lapsed Donor Results | 1st year | 2nd year |
| --- | --- | --- |
| Total List Size: | 10,673 | 8,657 |
| Billable Calls: | 3,772 | 2,620 |
| Cost: | $14,899 | $10,349 |
| Penetration: | 35% | 30% |
| Pledges | 1,402 | 830 |
| Pledge Percentage: | 37% | 32% |
| Pledge Amount: | $31,588 | $19,710 |
| Average Pledge: | $22.53 | $23.74 |
| Total Gifts Received: | 1,101 | 512 |
| Amount Received: | $28,423 | $15,797 |
| Fulfilled Percentage: | 90% | 80% |
| Return on Investment: | 191% | 153% |
Reactivating lapsed donors is tough and expensive. Our clients have had great results using the telephone to personally connect with and re-engage their lapsed donors. In the first year, we are often able to reactivate 8-10% of our clients' list.
As shown in the chart below in year one, this client received 1,101 gifts from lapsed donors as a result of the phone campaign. Those gifts accounted for more than twice the cost of the project. In year two, 512 donors were reactivated and revenue was one-and-a-half times the cost of the project.
Most encouraging is the additional revenue which the reactivated donors contributed. Through the end of year two this client had received $87,660 in addition to the amount originally pledged. Combining years one and two, this client received nearly $132,000 from donors that were reactivated during a project that cost them about $25,000 to complete.
Using the phone call as a communication tool, this client was able to create more significant awareness of their needs among their donor base, thereby building synergy in virtually every area of their fundraising.
Measurable results.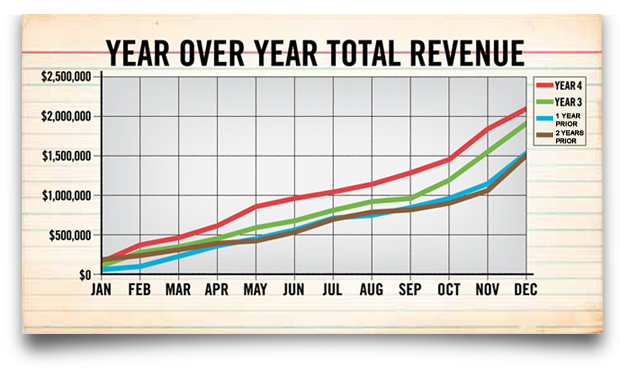 The graph above represents the income growth of our example client throughout each year. The green line represents the year we conducted their first telephone fundraising campaign. Other than the addition of an annual telephone appeal, no other major initiatives were undertaken during the years denoted by the green or red lines.
Until the telephone fundraising appeal began in that first year, revenue for the prior 30 months was nearly identical. By the end of the second year where a telephone appeal was conducted, total revenue had increased by over 20%.
There are many contributing factors to these results. However, both Gateway, the client and the client's agency agree that there is a direct correlation between personally calling and engaging their donors over the telephone, and measurable, long-lasting improvement in donor retention and participation.